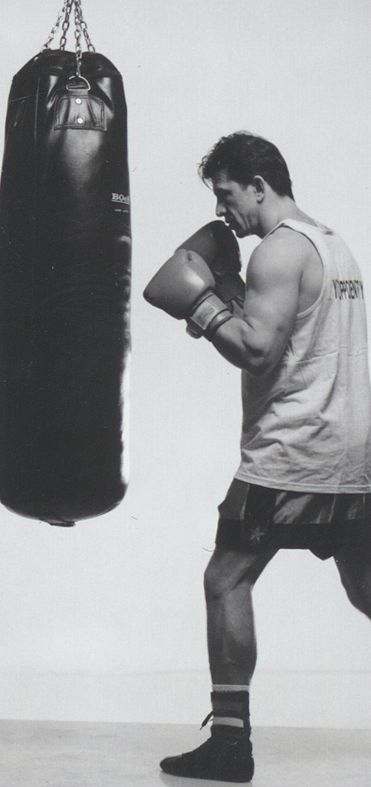 THE
CENTRE RING

TEAM
BOXING
Wayne Bourque's Boxer
cise
combines the expertise of fitness experts and professional fighters, drawing on basic boxing technique and physical conditioning.
WAYNE BOURQUE

CERTIFIED FITNESS TRAINER STFA

NCCP LEVEL 2 BOXING COACH

QUALIFIED TEAM MEMBER, OLYMPIC TRIALS, 1984

FORMER CANADIAN CHAMPION

3 TIME NORTH AMERICAN NATIVE CHAMPION

4 TIME GOLDEN GLOVE CHAMPION

4 TIME PROVINCIAL CHAMPION (ALBERTA)

WORLD CHAMPION, MASTERS DIVISION 2009

INDUCTED TO THE WOOD BUFFALO SPORTS HALL OF FAME 2012

RECIPIENT, LIFETIME ACHIEVEMENT AWARD , REGIONAL ABORIGINAL RECOGNITION AWARDS
ANDREW TRACY

CERTIFIED INSTRUCTOR - WAYNE BOURQUE'S BOXERCISE
CARLOS VARELA JR.

APPRENTICE OF MASTER COACH CARLOS VARELA SR.

APPRENTICE OF MASTER COACH BORIS GITMAN

NCCP LEVEL 5 OLYMPIC LEVEL COACH

MEMBER OF COACHES ASSOCIATION OF ONTARIO (COA)

2000 ONTARIO PROVINCIAL AND CENTRAL REGION HEAD BOXING COACH

2005 COMMON WEALTH COACH LIVERPOOL ENGLAND

2005 CANADA VS. SCOTLAND

2005 CANADA VS. ENGLAND

2005 CANADA VS. USA

2006 CANADA VS. ITALY
Carlos Varela Jr. has been involved in boxing his entire life. The son of accomplished champion and trainer Carlos "Kid Varelita" Varela, boxing is in his blood.
Carlos Varela Jr. has trained four Canadian national champions and many provincial champions. He has coached for the Canadian National team and has worked ringside for numerous national, international and professional fights. Carlo leads the personal training for boxing at Centre Ring and specializes in total fitness, technical and competitive boxing. His people skills are as strong as his technical skills and because of this he is able to get you to achieve your personal best.
GARY HYND

NCCP LEVEL 1 BOXING COACH

CERTIFIED INSTRUCTOR - WAYNE BOURQUE'S BOXERCISE
HORACE POLLACK

CERTIFIED INSTRUCTOR - WAYNE BOURQUE'S BOXERCISE
MELISSA POSNER

CERTIFIED INSTRUCTOR - WAYNE BOURQUE'S BOXERCISE

CERTIFIED PERSONAL TRAINER (ACE)

CERTIFIED GROUP EXERCISE INSTRUCTOR (CAN-FIT PRO)

CERTIFIED RESISTANCE TRAINING SPECIALIST LEVEL 1 (BIOMECHANICS)

CERTIFIED BOSU BALL TRAINER (BOSU)

CERTIFIED ZUMBA™ INSTRUCTOR

CERTIFIED INSTRUCTOR - BILLY BLANKS TAEBO
Melissa has been involved in the fitness industry for over 15 years. She launched her career in 2000 being selected to work with Billy Blanks creator of TaeBo and became one of only ten fully certified Taebo instructors in the world.
We are very pleased to now have Melissa at Centre Ring and you will see that Melissa's energy, passion and experience is one of a kind.

ABOUT
PERSONAL

TRAINING

One-on-one boxing lessons focus on the basics of boxing for the beginner, or on more advanced techniques for the experienced and conditioned athlete. Boxing develops strength, speed, balance, coordination and awareness. You learn how to move your feet and further develop your core. You will learn first hand why they say boxer's train the hardest and you get to step into a regulation size boxing ring and learn from two very accomplished boxing professionals. You will condition your mind and body.
Great for weight loss when you eat right.
Great for stress release – sleep better.
Fun, challenging and the sense of accomplishment is huge as you begin to see yourself progress.